CUSTOM WORKS, PROJECTS, COMMISSIONS, COLLABORATIONS AND INSTALLATIONS.
FOR CUSTOM AND CONTRACT INQUIRIES, PLEASE EMAIL US AT: CUSTOM@JOECARIATI.COM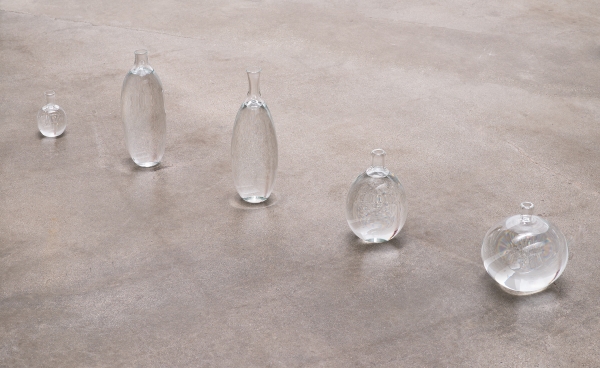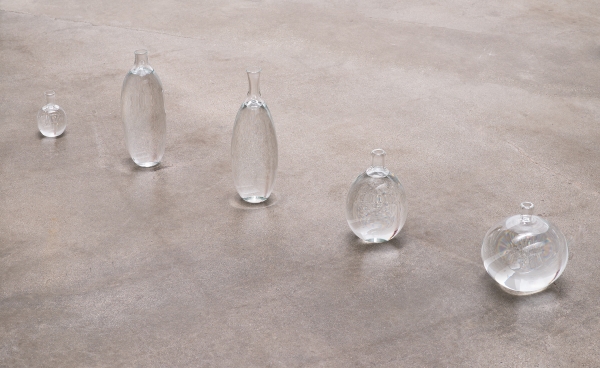 A conceptual NYC based artist, this project contains bottles custom blown by Joe as directed by David. Each bottle contains ocean water from "the longitude line that divide's California's time zone with Alaska's". "I imagine the boat to exist in neither time zone, somewhere outside the jurisdiction of standardized time."
David Wiseman
David Wiseman is an LA based artist who creates bronze installations, objects and furniture. The "cages" that we blow into are made of bronze. Each cage is preheated in our oven to 1000 degrees. The glass is then blown into the cage, cut and polished and returned to David's studio for patina and completion.
HAAS Brothers
The Haas Brothers explore aesthetic and formal themes related to nature, science fiction, sexuality, psychedelia and color theory. Mad hatters of the new school art/ design world, Joe has blown components for several lighting and sculptural objects and installations including the "Sex Room" installation.
Apple Computers reached out to Joe in 2012 to use images of his decanters in their App Store. The decanter images were featured multiple times throughout the App Store, including as the default images for Pages, iWork, and iCloud.
Splendid Stores
Splendid globe chandeliers contain a mass of blown glass amorphous objects & spheres. Installed in multiples to create a stunning "blobject".